Did you know that musicians are among the biggest consumers of live music? Well, when you think of it, that stands to reason. Barbara and I have tons of musician friends. Not only do we go out simply to support them, we go out because we love live music and we love their music!!! We also learn from each other, influence each other, and yes, socialize together!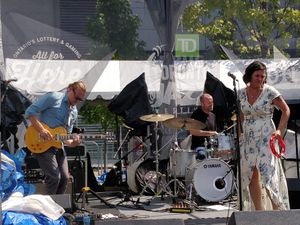 That's one of the reasons why we regularly host house concerts for our friends -- some of the best lesser known musicians in the country. And that's why we often go out 4 or 5 nights a week because, well, we can! That's one of the benefits of being empty nesters and also one of the benefits of living in a city that's teeming with phenomenally talented musicians. (Seriously people, we are blessed to live in this city!) 
Last Sunday we headed to the Toronto Jazz festival as the Toronto Blues Society was hosting their annual talent search. On the bill was The Bywater Blues Band, built around great blues vocals of Meghan Parnell and searing slide guitar of Dave Barnes. We've been following them around for several months, but man oh man, they were on fire last Sunday afternoon -- not just because the thermometer soared to a sweltering 32 degrees. (That's centigrade!)
It was an all original set of great tunes, including their opening tune they wrote just a week ago. And the band was tight, happy and full of energy, (as well as hot!) The crowd responded. Check them out here: http://www.bywaterblues.com/
And incidentally, Bywater Blues won the talent search. I could have said, "I told you so..."