Thank You for feeding the Tip Jar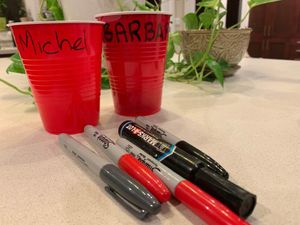 Tips are pretty much the only way we fund the development, rehearsal, technology, and time we need to bring our music to you. All the tips collected are shared amongst the performers! 
The more musicians on stage, the more we spread it around. And the more generous you are, the more you feel good inside! 
For concerts we suggest a minimum of $20 per person, but more is always welcome if you have the means, enjoy what we do, and appreciate the hard work that goes into it.
You have 3 ways to send a tip. (See how accommodating we are?!) 
Way 1 is by using a new & improved platform called PickleJar. It's all text-based so no app, no account to create, no portal, no password, no nothing except Tip Jar happiness. And the best news is that this smart little app detects your loczation and automatically lets you pay in usd or cdn. Yeah, try it!!  Click here or the PickleJar button below.
Way 2 is below below using PayPal. You do NOT need a Paypal account to use it so it's also all about Tip Jar happiness. Click here or the Paypal 'donate' button below.
Way 3 is by sending an eTransfer to MichelNerayMusic[at]gmail.com That's a direct link to Tip Jar happiness!
Try one or try them all! (grin)
"

The Canterbury Place residents had the pleasure of enjoying the talents of Michel Neray and Abbey Sholzberg! Here's what the residents said after today's event.... "Music you could engage with and tap your toes to".... "Enjoyed the upbeat tempo".... "Lively and joyful".... "They're good at what they do, professional and thoughtful in their choice of songs!".... "Just fabulous! Bring them back!".... "Made my day, they are winners!".... "They performed songs from the 30's and 40's and 50's, I loved their range, and they sure do know their music!".... "Thought the bass player was cute!".... "They had a natural way of interacting with people, were at ease, and seemed to be having fun themselves!"...."
— Feedback from Canterbury Place residents