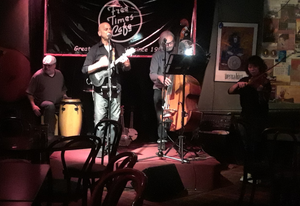 A few months ago, Jacques Russell Trio performed in the back room of Free Times Cafe, after which proprietor Judy Perly said, "You're really good... and I don't say that too often!!! You should come back!"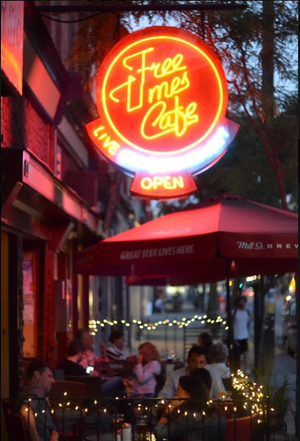 Judy's opinion counts. Thirty-six years ago, Judy established Free Times Cafe as a Toronto cultural and food institution, with a fully licensed restaurant and nightly original music. Looking at the walls filled with posters, it's fun to recognize the performers that have passed through this place. I don't think there's any musician who doesn't owe a huge amount of gratitude to Judy and her amazing place. 
So coming back we are... and you're invited to join us every Wednesday, 3ish to 6ish! You'll have fun!!! What can be better than an afternoon of Crepe Suzette, Rhubarbara Pie, and Cheese Blintzes!?
I mean, like seriously... and my recommendation? Try the blintzes and stay for dinner!
Feel free to RSVP on Facebook, (or not): https://www.facebook.com/groups/JacquesRussellTrio/events/