A few years back, I was fortunate enough to see B.B. King at his blues club in Orlando. I was doubly fortunate enough to be sitting in the front row -- not that much farther away than the screen you are reading this on is from you. It was a powerful experience, not only because we were truly up close and personal, but because in addition to his great mastery of music, he was also a great storyteller.
He told stories of growing up in Mississippi; he told stories of his family; he told stories of playing alongside other great musicians. In fact, he probably spoke more than he actually played -- which was fine for the audience because, well, those stories weren't on any of his records! His storytelling gave us a view of the man in a way that went much deeper than his recordings ever could.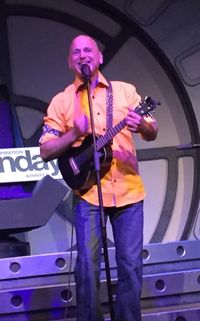 When I think back to all the concerts I've gone to, some of the most memorable ones were when the songwriter shared more about themselves than they could on their records.
Sadly, very few live performances give musicians the opportunity to share their story. In a noisy bar, you're lucky of you can get anything more than a few words out about the next song. As a result, many musicians never get the chance to develop their craft of spoken storytelling. They get so rehearsed at performing their songs over and over again that coming out from behind their guitar or keyboard and truly opening up in front of the audience just feels too awkward.
I saw that over and over again as the producer of a storytelling show called momondays. It's an entertaining evening based around personal storytelling, but we always include a musician in the line-up -- and we encourage them to use this stage to stretch their comfort zone around storytelling. (You'll never find a warmer, more supportive audience, that's for sure!)

A few months ago, I took my own advice... I spoke at momondays Winnipeg and I did not share one of my professional speaker stories. Instead, I shared the story of my musical journey, mixing story and song, (and a few jokes), in a way I never had done before. (Yes, I was nervous.) Through my story, I shared the insights that I had gained along the way; insights that everyone could relate to (hopefully) whether they were musicians or not
It was pretty powerful experience for me, and based on the feedback, for the audience as well. If you're anywhere near a momondays, I encourage you to share your story too! http://momondays.com