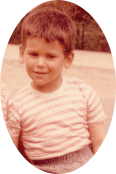 Yes, that's me. I was always a shy, insecure kid. (Can you tell?) 
  
Well, it's precisely because I didn't want to continue being a shy, insecure grown-up that i pushed myself to live full out, doing extreme sports, becoming a professional speaker, and performing on stage as a musician. 
  
But you know how you never really outgrow the child inside ... that child is always a part of who you are, right? 
  
A few months ago, I was engaged to present a virtual keynote to financial advisors across the country for a national insurance company. In one of the meetings with the client leading up to the event, they noticed the guitars on the wall behind me, and asked if i planned to sing an original song as part of my keynote. 
  
I said, 'Well, uhmm, errrr, yes, for sure!' 
  
Truth is, I've been wanting to do that for years, but was just waiting for the right opportunity. 
  
This was it. 
  
Of course, I kept the bulk of my keynote in the realm of 'tried and true' -- rule number one in professional speaking -- but I changed my opening and my close to incorporate the musical element seamlessly. 
  
Not only did it require blending two related but different skillsets, it also demanded a more sophisticated technology set-up to accommodate higher quality audio. 
  
(Did I tell you that virtual keynotes can be more stressful than real, live ones? They are, but I'll save that for another newsletter.) 
  
I wanted it to be better than 'good' and i wanted it to work flawlessly, so I asked the client for an extra sound check and tech run-through. 
  
The shy, insecure child was afraid they'd think I was high-maintenance or a 'diva'. The shy, insecure grown-up reasoned that no matter what they thought, an extra sound check was probably a good idea. 
  
After the keynote, I did a debrief with the client. The shy, insecure child was afraid to mention the extra sound check. The shy, insecure grown-up reasoned that no matter what they thought, asking how they felt about it was probably a good idea. 
  
There's always something to learn, right? But I didn't expect this...  

 "It's always a challenge to keep people engaged in virtual presentations, but your name consistently came up as one of the favourite speakers of the conference — people were truly engaged by your stories and delivery. As an event planner, I'd also say that you were easy to work with. Plus, you went over and above in your preparedness, especially with the technology, which gave us confidence leading up to the conference." 

 
Don't let the shy, insecure child inside stop you from playing full out... or asking for feedback. It just may turn into great feedback!